Writing an SEO compliant blog post is easy when you follow these 10 steps. Find out what you need to include, and why they're important.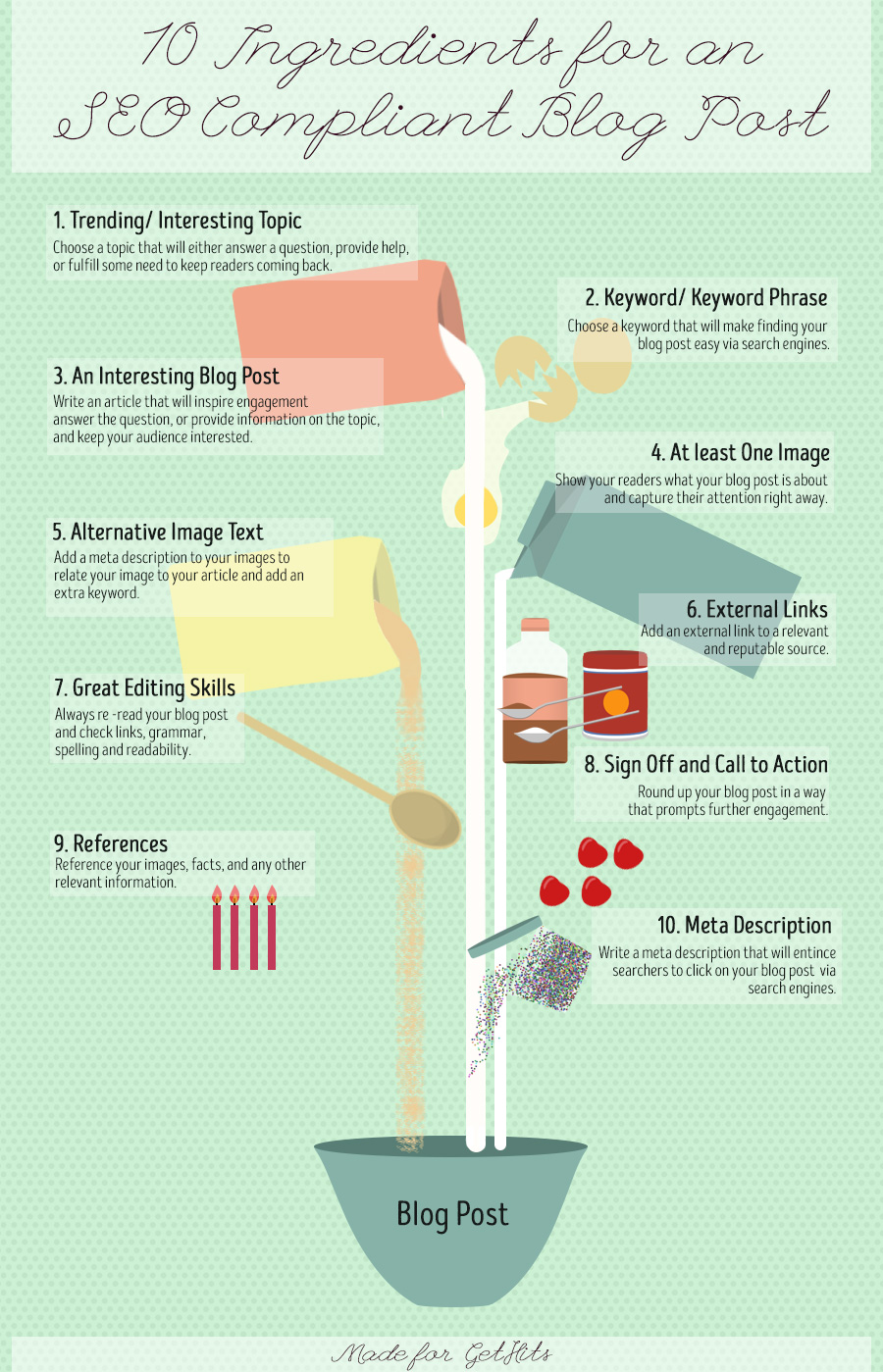 The Recipe for Success When Writing an SEO Compliant Blog Post
Now that you know the how, here's the why.

1. Find a Trending or Interesting Topic
It's a big job, but don't let it be your stumbling point. If you're really struggling to find a topic, take a look at what people are talking about on the social media networks you follow. If that doesn't help, check out a website like Quora or Ask.com and write a post to answer unanswered questions.

2. Identify your Keyword or Keyword Phrase
You'll want a keyword or keyword phrase that is your topic in a nutshell, but is also something other people would search for online. Use Google Adwords tools, or Google Trends to find out which wording will be the best as a keyword phrase i.e. "baking a cake" versus "cake baking".

3. Write an Interesting Blog Post
This is by far the most difficult part – and if you're an avid writer you've already got this down. Your blog post should flow well, make sense, be engaging, and stay on topic. The following are good SEO tips to stick to:
Your keyword density should not be above 4.5%;
Your blog post should be at least 350 words;
You should have at least one H1 tagged heading;
Your keywords should appear in at least one of your headings and at the beginning of your post; and
You should include your keyword in your image Alt text.
4. Include at Least One Image
Even if it's just a cover image, because you want more focus on what you're writing, having at least one image to guide the more visually driven readers in your audience is ideal. It also helps with presentation on your blog, in search engine results, and with social media sharing.

5. Give your Images Alt Text
As mentioned above, adding your keyword to your image alt text is good practise, and a handy way of incorporating another instance of your keyword. Be careful to avoid keyword stuffing here though, readers are likely to see this text so you want to have it making sense.

6. Include External Links
Add reputable links, even if they're just as references. It's also a great way of initiating a link building relationship and for attributing copyright.

7. Make Use of Those Great Editing Skills
Even if you were careful when writing your post, be sure to check for typos, errors, broken links, spelling and grammatical mistakes, and a good post flow. It'll help the readability, and make for a much better result.

8. Signing Off
Ending blog posts can be tricky – especially if you're not writing for a personal blog. Try to keep it simple, round up your post, and entice a response from your audience. If you're wanting people to sign up, support, or perform some kind of online response to your article, don't be afraid to suggest it. Ultimately you need to create an easy way for your readers to respond.

9. Referencing
Don't forget to give correct attribution to all quotes information and all images that aren't royalty free.

10. Meta Descriptions and Other Meta Data
While your meta title is important, your meta description should be given the most attention. This is a great opportunity to hook readers from search engines, and hone in on your topic and keyword choices. Adding a personal touch like the "- Aunty's Bakery Blog" in the meta title "How to Bake the Perfect Vanilla Sponge – Aunty's Bakery Blog" is a great referential point for your readers and reinforced brand awareness.
---
Having trouble writing blog posts? Pop us a message and we'll help you to optimise your blog posts!